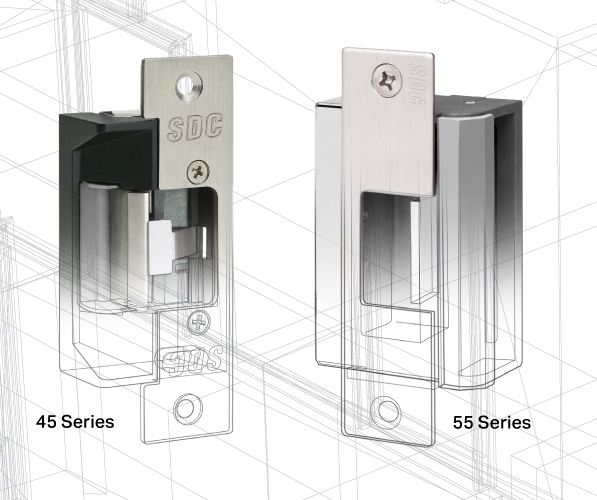 SDC's
UniFLEX™ electric strike products feature an interchangeable faceplate design.
Why should you care?

The interchangeable faceplate design allows for these strikes to meet a variety of applications. Simply change the faceplate to meet your specific needs!
SDC's 55 series and 45 series electric strikes are available in a variety of configurations to accommodate several types of mechanical locksets and door and frame styles - as well as failsafe and failsecure applications.
SDC's 55 series 3/4" latchbolt electric strikes are heavy duty. They are designed for installation in hollow metal frames for access control of cylindrical locksets, mortise locksets with or without deadbolts and mortise exit devices. 55 series strikes accept 3/4" throw latchbolts and up to 1" throw deadbolts. The choice of six application faceplates eliminates the need for centerline relocation, making them ideal for new or retrofit, high security access control applications.
SDC's 45 series 5/8" latchbolt electric strikes are centerline latch entry strikes designed for use with cylindrical locksets and mortise locksets without deadbolt for both metal and wood frames. 45 series strikes accept 5/8" throw latchbolts or up to ¾" throw latchbolts with 1/8" door gap. Centerline latch entry strikes require the latch to enter at the strike "centerline" located exactly between the top and bottom of the strike faceplate.
As an additional benefit, we have created all-in-one part numbers that come with the electric strike and three faceplates for the most common applications.
Check out our new Electric Strikes page for more information!