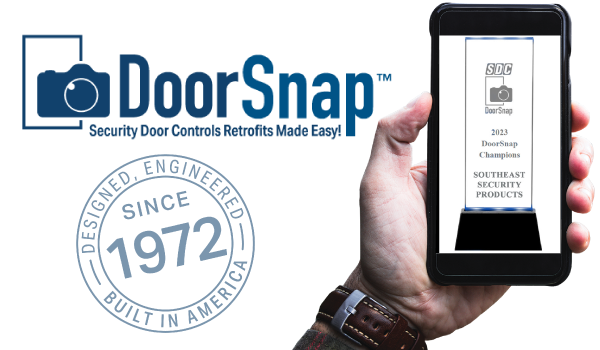 SES Generates the Most DoorSnapTM Customer Submissions
Southeast Security Products (https://sesproducts.com), located in Deerfield Beach, Florida, earned year-long bragging rights among SDC's Door Hardware and Alarm/Electronic Security outside sales rep agencies. From June 1st thru August 31st SES promoted and received the most customer submissions – 18 - for DoorSnapTM, our award-winning solution for recommending access control locking hardware for door retrofits.
DoorSnapTM is included in our Free SDC App and allows customers to send a picture of their retrofit door installation and receive a complimentary access and egress electrified solution recommendation from SDC with product information links and more.
For more details, visit: www.sdcsecurity.com/doorsnap.
Concerning DoorSnapTM, SES President, Roy Nilsen says: "We simply show DoorSnapTM to every dealer we can. There is simply no easier way to give a dealer the confidence of specifying a door opening knowing you have the right hardware to get the job done right the first time. It saves dealers time and money and is the easiest value proposition we have in our tool bag…"
Rumor has it that Roy has already reserved a special spot in his display case for the electrified DoorSnapTM trophy being shipped to him this week. When plugged in, the trophy is lit with a rotating palette of colors designed to subliminally encourage more sales on our behalf. Way to go Roy!