SDC's approach to exit devices is focused on providing locksmiths, dealers and integrators with opportunities in retrofitting existing mechanical devices to electronic – for integration into access control systems while maintaining security, fire and life safety compliance in a cost-effective manner.
LR100 Series Retrofit Exit Device ELR Kits


Central to this theme is retrofitting to electronic via motorized latch retraction kits to enable electronic access control and dogging of mechanical exit devices – hence our LR100 offerings. The SDC QuietDUO

TM

LR100 ELR kits retrofit most major brands of mechanical exit devices – many without removing the device from the door, saving on installation labor cost. Also, upgrading the solenoid to a motor in the ELR kit reduces power consumption and increases the device's product life.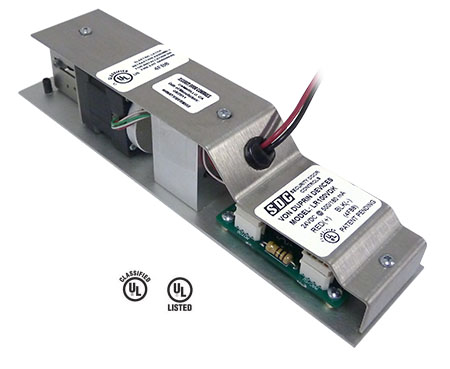 S4000 Series Commercial Exit Devices


For the commercial and industrial markets, SDC designed the new S4000 Exit Devices with standard, factory installed motorized latch retraction and REX monitoring – to facilitate the easy integration into access control systems. SDC also recognized that many of these types of compact exit devices are used in applications where corrosion-resistance through stainless steel design is a desired benefit.
S5000 Series Storefront Exit Devices


To address the demand for electronic glass storefront exit devices, SDC developed the new S5000 – to work well in manual and automated door openings aluminum glass entrances. As a heavy duty, code compliant exit device alternative to magnetic locks for storefront applications the S5000 also has standard ELR with optional REX monitoring, and provides durability, superior aesthetics and smooth operation.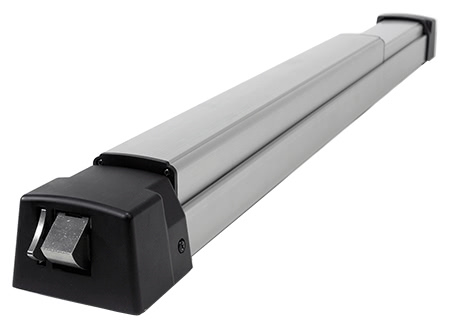 S6000 Series Architectural Exit Devices


Rounding out SDC's exit device solutions are the S6000 SpectraTM series architectural exit devices – meeting the demand for superior style and electrified options for access control needs, including: electric latch retraction, electric dogging, alarmed exit, delayed egress, electrified mortise and electric frame actuator controlled. These panic and fire rated exit devices meet the national and state building and fire life safety codes with a modern look and quiet push pad operation.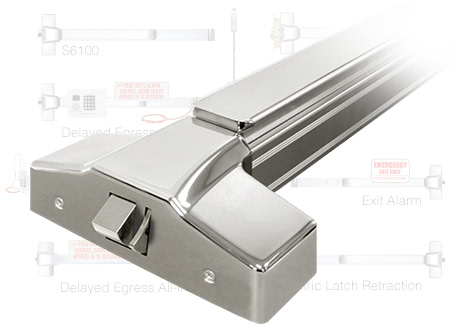 All SDC exit device solutions provide access control capabilities for both retrofit and new construction projects.