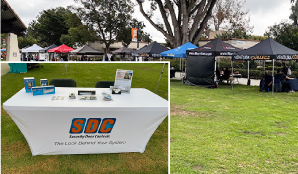 Dalton Geringer, SDC's Operations Manager, manned our exhibit at Ventura College's Part Time and Seasonal Job Fair on October 12th, to make students aware of our part-time job openings. SDC supported this community event particularly for those considering a career in manufacturing as a way of gaining invaluable experience while completing their education.
"A lot of students have stopped by. It's nice to see there are so many kids wanting to get out in the work force," Dalton explained. "Many are eager and may not yet have the experience we need but, with their positive attitudes and work ethic, I am confident we'll get many applications and find some new hires who can learn on the job and become productive contributors to our manufacturing operations."
Ventura College, founded in 1925, is an accredited two-year institution of higher education. The 112-acre campus, set in the rolling hills of Ventura, has an enrollment of 14,500 students.