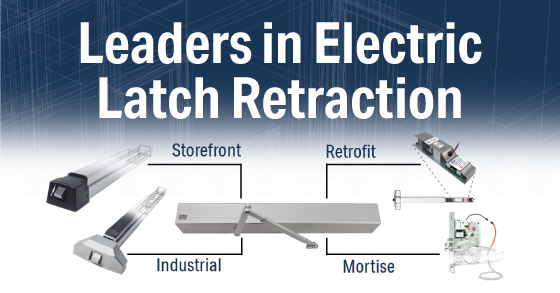 Electric Latch Retraction (ELR)
Since 2012, when SDC launched QuietDuoTM – the first motorized ELR kits to convert mechanical exit devices – we've been "quietly" leading in electric latch retraction (ELR) upgrades for access control. This includes retrofit solutions for most brands of exit devices, as well as innovative SDC exit devices & mortise lock-sets with factory-installed ELR and automatic door operators with a built-in 1 amp+ power supply to power them.
With advancements in electric motor technology, the use of a motor for electric latch retraction provides lower current draw, quieter operation, and greater durability over time vs. solenoids.
New & Retrofit ELR Solutions
From retrofit ELR field kits to exit devices and mortise locksets, all SDC ELR products use the same motorized technology to provide both latch retraction and dogging. Additionally, all are grade 1 and UL listed and can be powered with the built-in 1 amp+ power supply that comes standard in SDC's AUTO series low energy operators.