As seen in DHI, Door & Hardware Magazine, January 2017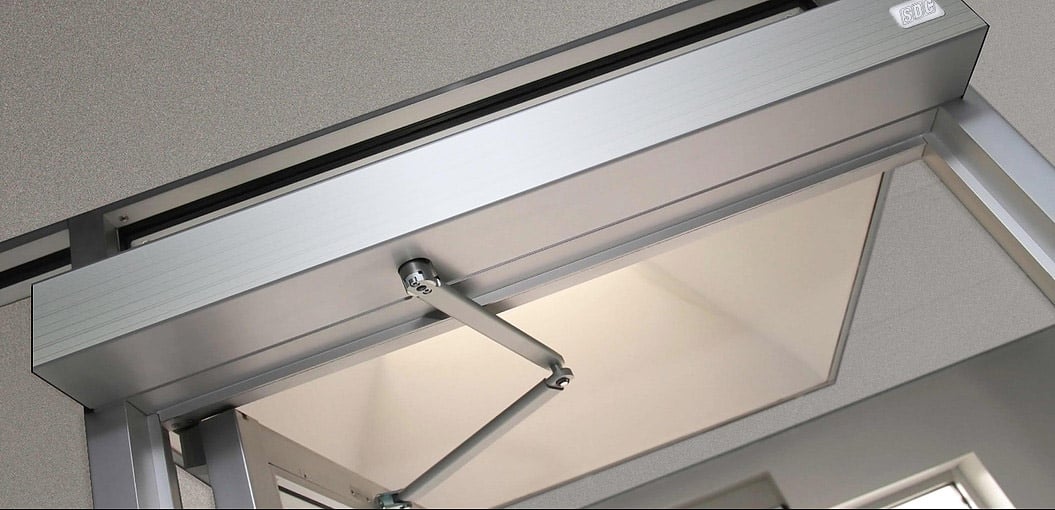 Low-energy, swinging door operators provide hands-free, low-power point of entry door control to help meet all U.S. and Canadian Americans with Disability Act (ADA) requirements for door installations in a variety of locations. We're going to take a brief look at market trends for automatic doors, features that are driving the trends, some basic information specific to low-energy swinging doors, and application examples.
The American Association of Automatic Door Manufacturers (AAADM), a non-profit, trade association commissioned a number of research projects that indicate the following:
• 98.9 percent of consumers who expressed a preference between automatic and manual doors prefer automatic doors
• Participants indicated that it was most important for automatic doors to be used at hospitals, airports, hotels/ motels, shopping mall entrances and retail stores
• When participants were asked to name specific locations where doors are essential yet not usually present, they told researchers they should be installed more frequently at shopping malls, hotels/ motels and post offices
Besides questioning consumers about automatic doors, the AAADM also queried those responsible for specifying and buying automatic doors in architectural, retail, hospitality and higher education environments. Both consumers and specifiers/buyers consistently ranked the best locations for automatic doors as:
1. hospitals
2. airports
3. hotels/motels
4. hopping mall entrances
5. retail stores
The combined audiences also ranked the top features for specifying an automatic door as:
1. handicap access
2. safety/security
3. convenience and ease of use
The ADA has required many businesses to install automatic doors to become ADA-compliant. One of the intents of this law is to ensure that handicapped people are able to access or egress a building with little exertion, despite their physical disability. The elderly also benefit from the law, as many cannot easily open manual doors on their own, whether disabled or not.
The two prevalent accessibility standards in the United States are ICC A117.1—Accessible and Usable Buildings and Facilities and the 2010 ADA Standards for Accessible Design.
Automatic doors hold an outstanding safety record in the U.S. with more than 50 billion safe automatic door openings and closings annually. Automatic doors and components should be manufactured in compliance with the American National Standard for Power Operated Pedestrian Doors, ANSI A156.10 , which governs and defines their installation, sensing devices and safety requirements. Many automatic doors are designed to integrate with a variety of electronic sensors, access control systems, electromagnetic locks, electric strikes and exit devices for security applications.
Automatic doors provide immediate convenience by eliminating the effort required to open a heavy, manual door. Users also appreciate the hands-free advantage when entering or exiting a door with packages, luggage and children.
There are three basic types of automatic doors: swinging, sliding and folding doors. Automatic low-energy swinging doors are designed for applications requiring ADA compliance or user convenience. These doors are usually available in three configurations:
• A single door that swings in or out and is left-handed or right-handed—most common
• A pair of doors that simultaneously swing in the same direction
• Double egress—a pair of doors that simultaneously swing in opposite directions
Low-energy swinging doors deliver a cost effective alternative to meeting accessibility compliance, while still allowing the able bodied to manually use the swinging door. Low-energy operators can be retrofitted to existing doors for additional cost savings while providing universal accessibility.
Basic information about low-energy swinging doors
Low-energy swinging doors are governed by ANSI 156.19 and ADA and include these features
and requirements:
• "Knowing Act" activation (pushbutton or push plate)
• Slow opening and closing speeds
• Low operating force
• Floor space requirements
• No guide rails required
• Clear opening width—32 inches (815 mm) minimum in power-on and power-off mode—based on clear opening provided by all leafs in the open position
(see downloadable PDF for full article)
---
For More Information on SDC's Automatic Door Opener
please go to https://sdcsecurity.com/Auto-EntryControl.htm