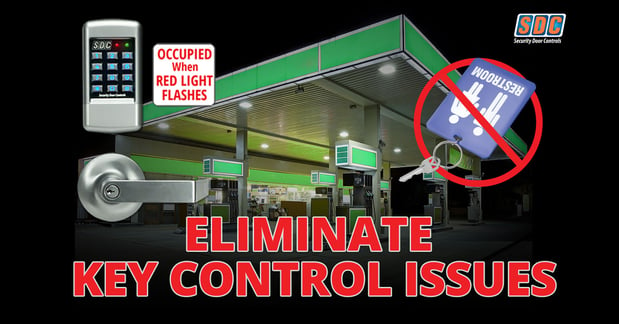 There are 152,700 Gas Stations in the U.S. Of these, 121,998 are Convenience Stores selling gas, leaving about 30,000 as Gas Stations only. There are 37,275 coffee houses (not coffee shops) in the U.S. (Sources: NACS/Nielsen and Statista). And all of those places have Restrooms.
One of the biggest issues with road trips during the COVID-19 pandemic is a lack of public restrooms. Most have been closed due to health concerns. See the USA TODAY article: "Motorists hold their bladders as some restaurants, gas stations close public restrooms" - https://www.usatoday.com/story/travel/2020/07/09/restrooms-shortage-restaurants-gas-stations-coronavirus-covid-19-toilets/5403924002/.
"Cashiers at the 76 and Chevron stations said restroom traffic is about twice as busy as it was before the coronavirus pandemic struck," the article states. That means a key is handed out over and over again - the 'stick-key'.
The SDC EntryCheck® E75 Privacy could help alleviate some of this problem as it allows managers more control about keeping restrooms open, allowing access and how long an occupant stays.
The E75 Privacy provides controlled access for basic and multi-level convenience, being keypad programmable with efficient motorized locksets.
• No Key Control Issues
• Manager Override to Open
• Low Cost
• No Wires
• Easy to Install
• Keypad Programmable - No Software Required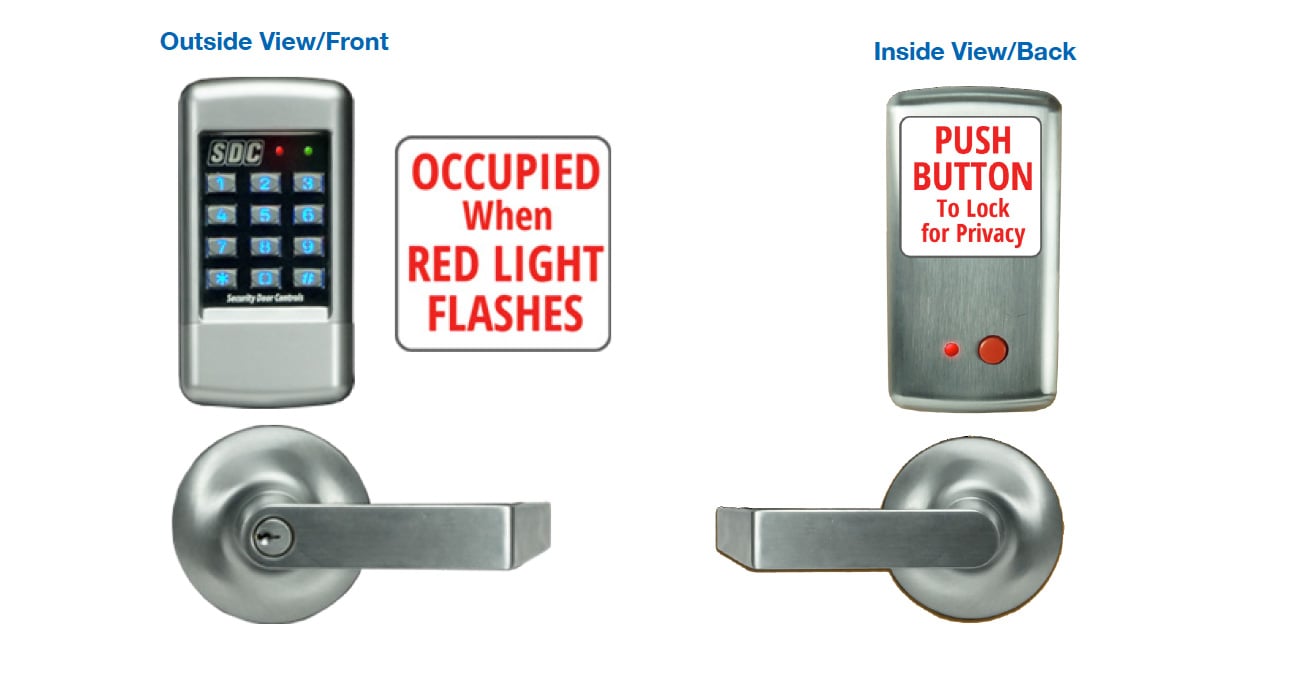 Signage clearly indicates Status and Function, so no user instructions are required.
Management can override the Privacy function and open the door with a Key or Master Code in case of emergency or to clear room occupants who have overstayed their welcome.
ACCESS
Customers/Employees are provided an access code to enter on the keypad.

ACTIVATION
Once inside, with the door closed, simply push RED button to activate privacy function. The RED LED on the outside keypad flashes to indicate occupation. Activation of Privacy Mode Locks Out Keypad.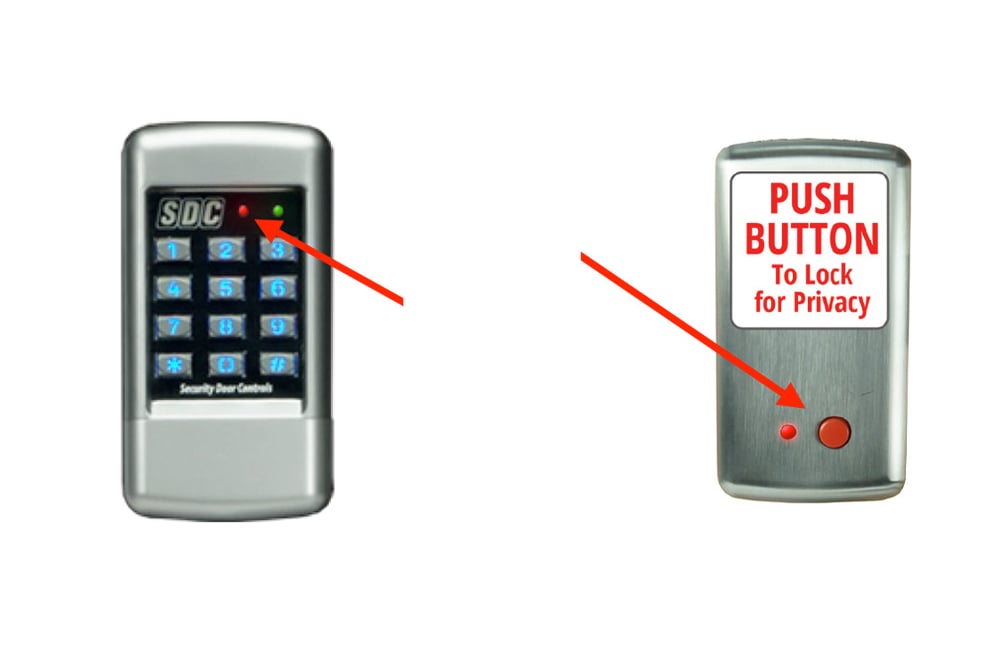 DEACTIVATION
When the inside lever is turned to leave, the privacy function is deactivated and the lock is ready again to accept another user.
An internal logic board includes a timer for up to 60 minutes that upon completion of the timer can be set to:
1. Disengage Privacy Function
2. Notify Management Time Limit Exceeded (Wiring & Relay Required)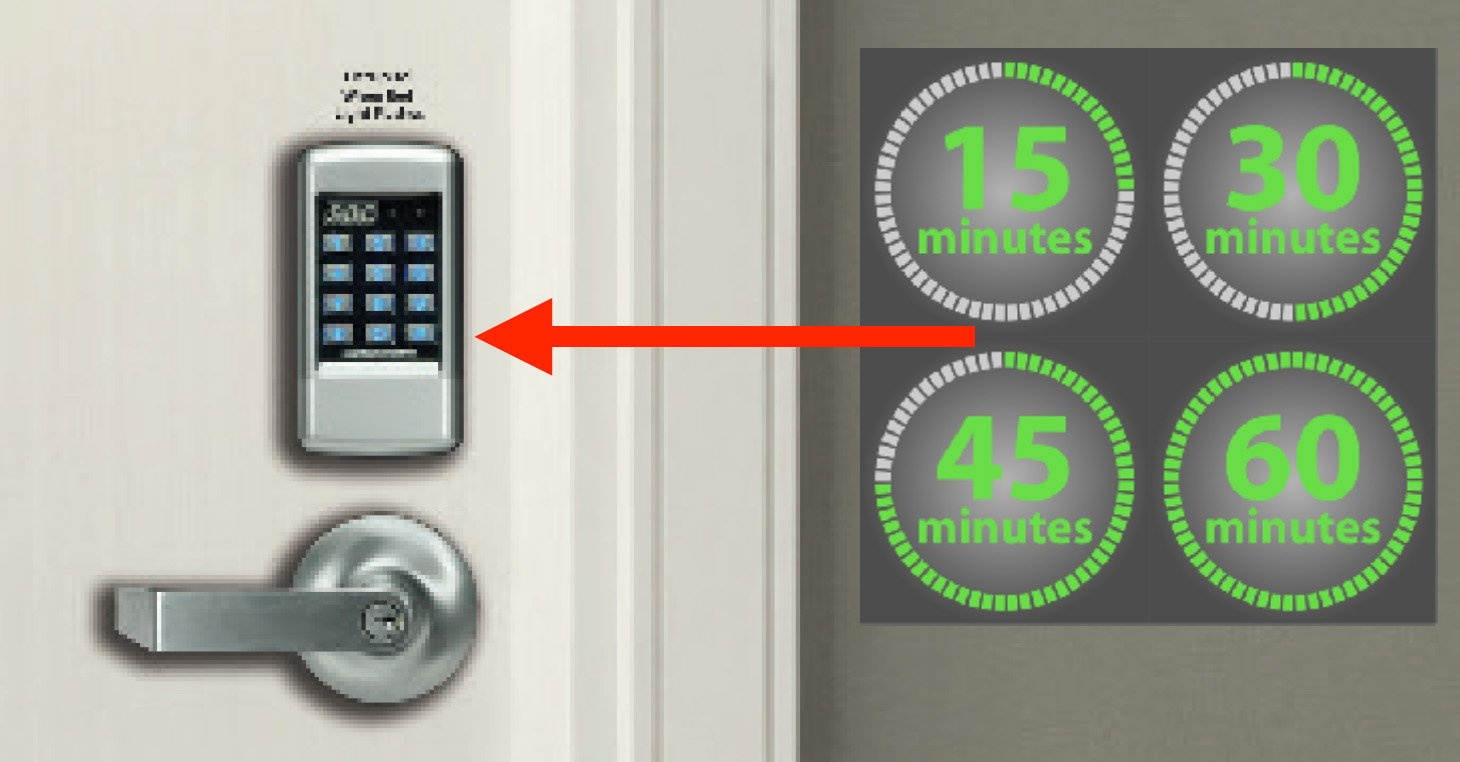 To notify a supervisor or management of an occupant exceeding the time limit, an auxiliary relay sends a signal to a pre-determined location so the supervisor or an employee can go check on the occupant.
• Early Detection of Emergency Situations
• Combats Vandalism
• Curbs Improper Use of Restrooms
For more information on the E75 Privacy Lockset, check out SDC's website
https://sdcsecurity.com/E75-Privacy
Getting back to roadtrips, Charmin has gone a step further with their "Sit or Squat" mobile phone app that lists more than 100,000 public restrooms and rates them. Clean locations earn a green "Sit" rating and less desirable ones have a red "Squat." https://www.charmin.com/en-us/about-us/sitorsquat.
We can sit with that for a while!