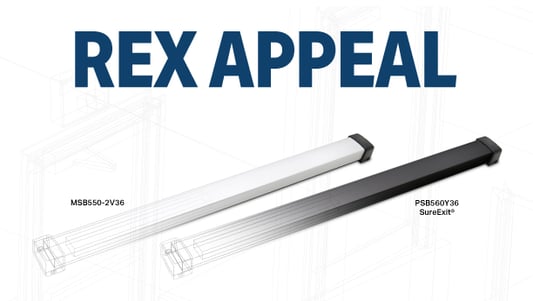 Back to Basics: Egress Devices
In 1992, SDC's SureExit® was and still is the only tri-failsafe request-to-exit bar and the only egress device utilizing pressure sense technology - with no moving parts. When slight pressure is applied two redundant solid state pressure sensors release locks immediately. A third redundant micro switch is automatically activated to release the door if both sensors or the electronics fail. This ensures door operation will continue without prior knowledge or use. Unlike touch sensors, activation may be accomplished while wearing heavy gloves.
The MSB550 series of mechanical switch REX bars are an economical alternative to sensor activated bars. Both of these narrow, low profile egress device lines are built with heavy duty aluminum extrusions and metal end caps for high traffic while maintaining superior aesthetics for high profile openings. Since 1972 SDC products have been designed, engineered and built in America to provide quality products that are readily available.